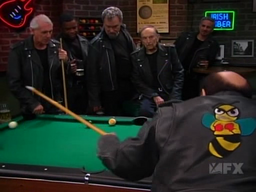 The Yellow Jacket Boys were Frank's street gang from the 50's. They appear to be leather jacket-wearing street gang from the 1950s, but the most menacing thing they are seen doing is enchanting the streets of Philadelphia with their doowop singing.
Caroline (deceased)
Scoots
Raz
Pipe
Crazy Legs
James Klippel
Mac: No, no, no! Gangsters don't sing!
Frank: What are you talking about? You ever hear of gangsta rap?
James: No no. Hawky can't die!
Appearances
Edit