The Great Recession
Comments

0
314pages on
this wiki
"The Great Recession" is the third episode of the fifth season of It's Always Sunny in Philadelphia.
Mac and Dennis try to keep the bar afloat in the tough economic times; Frank starts a family business with Dee; newly poor people gather outside the bar.
Recap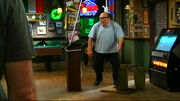 11:00 A.M. on a Tuesday
The recession has hit Paddy's Pub with the arrival of an RV. Frank decides to hang himself because he lost everything in a ponzi scheme. After losing his money, he meets with Mac & Dennis at Dave & Buster's to talk shop over steak and video games. Mac decides to make their bar as efficient as the government so they cut Frank from the management team and begin consolidating.
Mac and Dennis start firings at Paddy's with Dee after asking her to mix a mojito for them. She proceeds to give them a Coors Light and quits before they can fire her.
Charlie shows Mac & Dennis how he burns trash in the furnace, changes the rain water barrels and siphons electricity from other buildings while showing his illiteracy by explaining that everyday he turns on the "Coors" sign which is actually the "Closed" sign. With one swoop, Charlie is fired and kicked out onto the street because Frank sublets the apartment to start up his business with Dee in their trailer.
Dennis and Mac get drunk off Merlot at Dave and Busters and think of a stimulus plan to help Paddy's pub in this tough economic time. Dennis in his drunken state, comes up with Paddy's dollars. Frank and Dee try to sell knives and a vacuum to their first client but with minutes Frank has sliced open his hand so in depression he attempts to hang himself yet again in their clients bathroom.
Mac and Dennis's plans don't quite work out and Dee, Frank and Charlie become crab people before the government bails them out!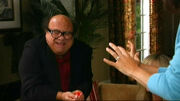 Alliances
Recurring Roles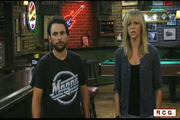 Guest Stars
Kristen O'Meara as Beth
Sabrina Vittore as D&B Waitress
Shaun Paul Costello as Dude
Trivia
Quotes
---
---
---
---
---
---
---
---
---
---
---
---
---
---
---
Videos