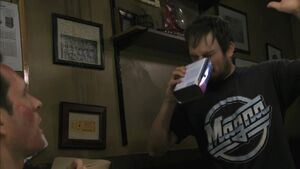 "The Gang Gets Successful" is the unaired episode of It's Always Sunny in Philadelphia which is originally was produced for Season 6. This episode has a production code XIP06004.
It was directed by Randall Einhorn (and likely written by Scott Marder).
The 7th Season episode "How Mac Got Fat" mostly featured scenes from this episode. Also, a few scenes from the episode are being included in promotional material for Season 6.
Known Part of the Plot
Edit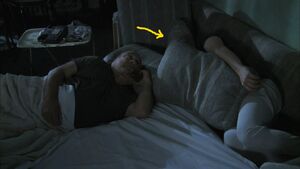 At some point, Paddy's became a pretty popular place, packed with people. Each member of the Gang is about to having his way with this fact...
Guest Stars
Edit
Michael O'Hearn as Luke (Mac's Avatar)
Leonora Pitts as Customer #1
Scott Pitts as Customer #2
Rob Rosel as Man at Bar #1
Scott Marder as Man at Bar #2
Mac used to hanging out with Frank "under the bridge" (he was playing with a stray dog and between this and then drank three bottles of champagne).
Mac used to wear his leather jacket at the end of "Mac's Mom Burns Her House Down", too [and in Original Pilot as well].
When Charlie is freaked out with something (and he's happened to be in his apartment), he just goes into the 'CREVICE' - probably, that's somehow related with the "Night Crawlers".
---
 —

"

(to Dennis and Charlie) Are you, guys, sniffing a hair dye?!

"
"

(singing) Hair dye, glue, beer and paint thinner...

"

—