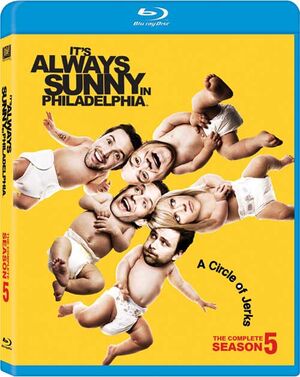 The fifth season of It's Always Sunny in Philadelphia was released onto region one Blu-ray on September 14, 2010 in a two-disc set. It contains all twelve Season 5 episodes and bonus features. It was upconverted, as it WASN'T filmed in 1080p HD.
Product description
Edit
Hey-oh! It's time for another round of outrageousness as the irrepressible gang at Paddy's Irish Pub returns. From internet dating and in-vitro fertilizationto an uproarious road trip to the Grand Canyon, Season Five is loaded with seductions, interventions, back-stabbings, and beat-downs. You'll find Dennis's fool-proof method for scoring with chicks (that no one else seems to grasp), Frank wearing skinny jeans, and, of course, Flipadelphia! Brace yourself for a shot of laugh-out-loud insanity and see what's on tap at Paddy's Pub, the worst -- the funniest -- bar in the world!
Bonus Features
Edit
Rent & Buy
Edit
Ad blocker interference detected!
Wikia is a free-to-use site that makes money from advertising. We have a modified experience for viewers using ad blockers

Wikia is not accessible if you've made further modifications. Remove the custom ad blocker rule(s) and the page will load as expected.