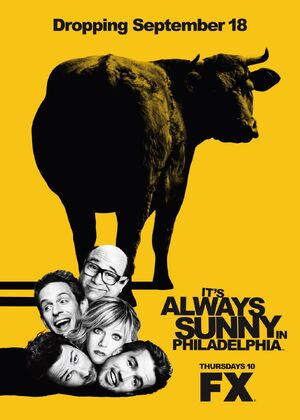 The fourth season of It's Always Sunny in Philadelphia was released onto region one DVD on September 15, 2009 in a three-disc set. It contains all thirteen Season 4 episodes and bonus features.
Product description
Edit
Step up to the bar at Paddy's Pub and brace yourself for a shot of outrageous fun! Paddy's may be the worst bar in Philadelphia, but the gang there sure knows how to party. Whether it's Dee and Charlie's flirtation with cannibalism, Frank's glory-hole fixation, or Mac's raucous reenactment of Dennis's over-the-top sexual memoirs, nothing is sacred for these dysfunctional misfits as they hilariously destroy all possible boundaries of good taste. This set includes all thirteen episodes of Season 4, including the hilarious musical finale: "The Nightman Cometh."
Bonus Features
Edit
The Nightman Cometh Live Performance
Deleted scene from "Dennis Reynolds: An Erotic Life"
Dennis Reynolds: An Erotic Life Featurette
Gag Reel
Rent & Buy
Edit
Ad blocker interference detected!
Wikia is a free-to-use site that makes money from advertising. We have a modified experience for viewers using ad blockers

Wikia is not accessible if you've made further modifications. Remove the custom ad blocker rule(s) and the page will load as expected.