The Aluminum Monster vs. Fatty Magoo
Comments

0
333pages on
this wiki
"The Aluminum Monster vs. Fatty Magoo" is the fifth episode of the third season of It's Always Sunny in Philadelphia.
The gang gets involved in the seedy side of the world of fashion design after Dee gets jealous of her former high-school best friend, who is now a successful boutique owner.
Recap
11:30AM on a Tuesday
Guest Stars
Trivia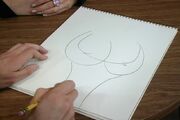 Dennis becomes a sexual female model with totally right proportions while the song "Together Forever" by Rick Astley is playing - the same song plays during the closing credits. In Charlie Has Cancer Dennis listens to Astley, as well.
This episode marks the first time that Dennis demonstrates his amazing ability to draw women with giant breasts.
In the scene where Dennis is trying to sell dresses to Ingrid, a stationery holder and speaker are sitting on Ingrid's desk in which he knocks over and pushes away to clear space for him to sit on. As he leaves the room, both items are back neatly in its place.
The episode "Charlie Goes America All Over Everybody's Ass" established that Frank has actually run at least one sweatshop during his previous career.
Quotes
---
Mac: Dee, can I talk to you for a second? Look, I know what you're trying to do. You wanna show this girl what's what. I get that. And I think if you just buckle down and join the team--
Dee: Mac, I'm gonna stop you right there. First of all, your breath smells like an old-lady fart passing through an onion. Secondly, I know you're trying to manipulate me. And it's not going to work. Get your hand off my shoulder because I've got a fatty to burn.