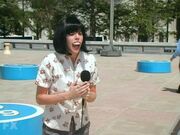 Taiwan Tammy was another YouTube character that Dee created and thought that Saturday Night Live would appreciate!
Appearances
Edit
Even for Charlie this conception is "extremely racist".
Taiwan Tammy "own raundry and do dry crean and nairs".
Ad blocker interference detected!
Wikia is a free-to-use site that makes money from advertising. We have a modified experience for viewers using ad blockers

Wikia is not accessible if you've made further modifications. Remove the custom ad blocker rule(s) and the page will load as expected.