The seventh season of It's Always Sunny in Philadelphia aired in the fall of 2011 on FX. It ran for 13 episodes and was broadcast in 720p HD. The season is currently available on iTunes and on DVD and Blu-ray.
Season Summary
Frank falls in love with a prostitute named Roxy but the rest of the Gang tries to transform her into a presentable woman. Meanwhile, Dennis attempts to help Mac get healthy after gaining nearly fifty pounds. ("Frank's Pretty Woman") The gang decides to take a roadtrip to the Jersey Shore so Dennis and Dee could relive their favorite childhood memories. The vacation turns nightmarish for the siblings, while Frank, Mac, and Charlie have magical experiences. ("The Gang Goes to the Jersey Shore") Frank accidentally finds himself in charge of a child beauty pageant and tries to squash all suspicions that he is a child predator while the rest of the gang pick contestants to mentor. ("Frank Reynolds' Little Beauties")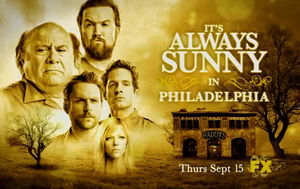 When Dee comes into money from her surrogacy, she is forced to fake a baby funeral to avoid the IRS. The boys in the Gang attempt to start a more democratic way of running Paddy's, which ultimately resorts to more shouting. ("Sweet Dee Gets Audited") Frank's long lost brother showed up at Paddy's, revealing secrets about Frank's former life as a club owner, drug addict, and his former lover. ("Frank's Brother") The gang runs into trouble when they tried to prepare for a giant storm, and Dennis meets a woman he can't seduce. ("The Storm of the Century")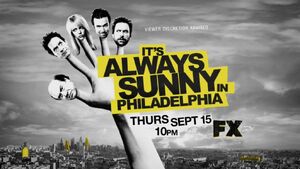 On a slow news day the gang played a board game they invented (ripped off from other games) called "Chardee McDennis!". ("Chardee MacDennis: The Game of Games") The gang tries to track down an annoying shusher on Facebook and end up bickering about the use of the internet for Paddy's business. ("The ANTI-Social Network") While robbing a house, The Gang got caught in a precarious situation when the homeowners returned. ("The Gang Gets Trapped")
Mac confessed to a priest how he gained his weight, and why the blame falls on his friends. ("How Mac Got Fat") The gang rush to the movie theater to see the world's greatest action movie, but must avoid traffic caused by Obama. ("Thunder Gun Express") The gang attend their high school reunion and are humiliated by the "cool kids" and other former enemies. ("The High School Reunion") They then take revenge on their enemies in the form of a dance routine. ("The High School Reunion, Part 2: The Gang's Revenge")
Behind the Scenes Videos
| | |
| --- | --- |
| Season 7 Overview | "Filthy" |
Cast
Main
Recurring
Episode List
Notes
That's the first season with the short version of the opening title sequence in it.
This season, they've decided to raise up the "production value" of several episodes (in particular,
07x04 and 07x06) by adding some kick-ass sound effects of bell on them. [previously they did it
only once - in Christmas special.]
Rob McElhenney have gained 50 pounds of weight SPECIAL FOR THIS SEASON and became a "Big Fat Mac". Originally he did it in a healthy way, but eventually he got tired of multiple meals a day of steamed rice and chicken, and started eating lots of donuts.
Rob have decided to do it during the watching of "The Big Bang Theory" (or whatever else commercially successful sitcom): he noticed that from season to season the characters in it are keeps looking better and better (which is NOT REALISTIC at all). So Rob decide to do the direct opposite thing to his character.
Neither Glenn or Charlie never would do anything like that for the stupid TV show. It's just a TV show!
The mixed opinion of these two cynical bastards on this serious matter says "That idiot decided he wanna do it on his own, and for now he have destroyed his metabolism... And that's pretty funny".
Here is the Dennis' words from Season Three: "We need a FUNNY FAT GUY. 'Cause every crew has
a funny fat guy". ("

Dennis and Dee's Mom Is Dead

") And since that's clearly not Charlie, why does Dennis
is so concerned about Mac's new look?
Rob was eating about five thousands calories a day, and he got fifty pounds quicker than he thought. So he was thinking about continuing the process, but "his HEART told him not to". Literally. And since Rob have
a "crafty metabolism", he was forced to supplement his weight throughout the whole shootings.
According to Kaitlin, back in his fatty days Rob's liver was "soft and not good". And any normal person just don't want to know how she learn it.
Although Rob admitted what "it's pretty great to be able to eat whatever you want", but he do have some rough times with such hard experiences as meeting people which are seemingly were talking to him,
but instead they were just constantly staring at his stomach.
McElhenney subsequently lost 23 pounds in a month after the season was finished filming.
The creators of the show DO NOT WANNA MAKE FUN OF A FAT PEOPLE. They're just making fun of Mac because of his "put on mass"-theory.
Images