The first season of It's Always Sunny in Philadelphia aired through the end of summer to an early fall of 2005 on FX. It is composed of seven episodes and is available to purchase on DVD and download on iTunes.
Season Summary
Edit
The Gang converts Paddy's Pub to a series of specialty bars: first a gay bar, ("The Gang Gets Racist") then one that serves underage drinkers. ("Underage Drinking: A National Concern") Then the bar gets robbed, and the Gang decides to buy a gun to protect themselves. ("Gun Fever")
Charlie engages in a series of schemes to impress the Waitress: first to prove he's not racist, then to show her that he volunteers with Big Brothers Big Sisters; ("Charlie Wants an Abortion") when those fail, he tricks the Gang into telling her he has cancer. ("Charlie Has Cancer")
The Gang also engages in infighting: Mac and Dennis fight to date a girl whose grandfather died in the bar, ("The Gang Finds a Dead Guy") and then Mac feels competitive with Charlie about getting molested. ("Charlie Got Molested")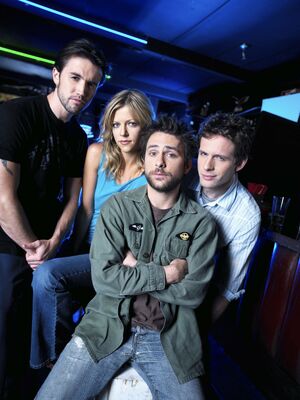 Main
Recurring
Guest
Episode List
Edit
|
|
|
|
|
|
|
Production and Broadcast
Edit
Ad blocker interference detected!
Wikia is a free-to-use site that makes money from advertising. We have a modified experience for viewers using ad blockers

Wikia is not accessible if you've made further modifications. Remove the custom ad blocker rule(s) and the page will load as expected.