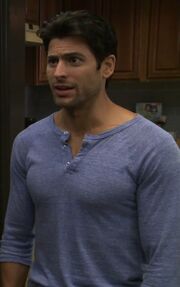 Rex is a model who competes to be on the billboard for Paddy's Pub. He is an early favorite's of Frank's but Frank ultimately decides he and two big breasted women will appear on the billboard itself. ("America's Next Top Paddy's Billboard Model Contest")
Rex later appears at the house party Mac and Charlie throw for the potential fathers of Dee's baby. ("Dee Gives Birth")
In "The Gang Saves the Day", he appears in heaven and is greeted by the recently deceased Mac during Mac's fantasy.
Rex appears as "The Master" of the cult in "Ass Kickers United: Mac and Charlie Join a Cult".
Appearances
Edit
Rex is a very soft and vulnerable person. Dee can force him to have sex with her by berating him using names like "cardio-jerk" or "workout turkey". ("

Dee Gives Birth

")
In Mac's opinion, Rex is a "quality lay" (especially, for Dee).
Ad blocker interference detected!
Wikia is a free-to-use site that makes money from advertising. We have a modified experience for viewers using ad blockers

Wikia is not accessible if you've made further modifications. Remove the custom ad blocker rule(s) and the page will load as expected.