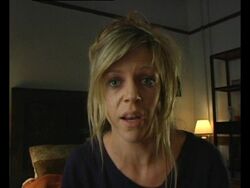 PatheticGirl43 is an Internet username created by Charlie Kelly to promote Dee's diary on YouTube. This stunt was for Dee to become famous and merchandise for Paddy's Pub. Charlie and Dee teamed together to beat Mac, Dennis and Frank to see who could become famous. While Dee was using her very offensive stereotypical characters to post to you tube, Charlie found her live diary and put it on you-tube. Charlie's contribution was to pop up random in his "green man" costume. She did get her fifteen minutes of fame though.
Appearances
Edit
External Links
Edit
Ad blocker interference detected!
Wikia is a free-to-use site that makes money from advertising. We have a modified experience for viewers using ad blockers

Wikia is not accessible if you've made further modifications. Remove the custom ad blocker rule(s) and the page will load as expected.