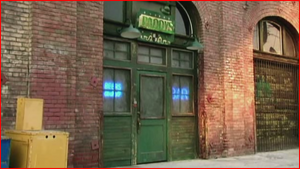 Paddy's Pub (or Paddy's Irish Pub) is an unsuccessful Irish bar in South Philadelphia.
Paddy's is owned and operated by members of "The Gang":
Physical Layout
Paddy's Pub is dominated by a long wooden bar. The entrance to the bar is in the front. In the back is a pool table, and a door to an office. A green door leading to an alley can be found between the bar and the pool table.
The pub contains an attic, which can be accessed through a series of vents. The vents also lead to the rooftop. (The Gang Gets Held Hostage)
Somewhere on the upper level of Paddy's is Charlie's "bad room", where Charlie goes to "be alone and break bottles." (The Gang Gets Held Hostage)
There is also a basement, which has been used as a training room for Charlie (Hundred Dollar Baby), a sweat shop (The Aluminum Monster vs. Fatty Magoo), as a shooting gallery (Gun Fever), and as a gambling parlor (The Gang Gives Back). The basement has a rat problem, which forces Charlie to trap and kill the rats. (Charlie Goes America All Over Everybody's Ass, Charlie Kelly: King of the Rats)  It's possible to get out of the basement and back up to the main level through a trapdoor.  (The Gang Tries Desperately to Win an Award)
There is a "Y2K bunker" somewhere in the bar (probably the basement).  The supplies stored in it were "raided" soon after Y2K passed without incident, and it's mostly been used as a place where Dennis bangs chicks (while Mac watches, apparently.)  (The Storm of the Century)
Paddy's Pub also has a decrepit bathroom. Cleaning the bathroom is considered Charlie Work. (Mac Bangs Dennis' Mom)
The bar is heated by a furnace, which Charlie uses to burn the trash and which gives the bar a smoky trash-like smell. (The Great Recession) To try to keep rats and other vermin out of the basement, Charlie reveals that he has blocked the vents on the heater, which has led to a dangerous buildup of carbon monoxide. (Charlie Work)
Schemes
The bar has been converted into a series of specialty bars, as part of various schemes to make money:
Each specialty bar is wildly successful, until the scheme spirals out of control and the Gang decides to revert the bar back to its usual, unsuccessful ways.
In the episode How Mac Got Fat, flashbacks reveal that at one point the bar became wildly successful for no apparent reason, but by the time Mac is telling his story, the bar is back to its usual status of being the hangout for a few assorted bums.
Events
The bar has also hosted a number of specialty events:
Promotions
The bar has engaged in several promotions to get people in the bar.
History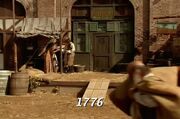 According to the Gang, Paddy's Pub has been around since 1776 and acted not just as a pub but as a base for those who sought independence from the British. It was slightly historical for being the location of the Liberty Bell's cracking. During this era, Paddy's Pub was known as Patrick's Pub and was owned by a 1776 version of the Gang which appeared to be their ancestors or past lives. Most of the "Gang" of this era were not supporters of independence and actually planned to gain favor with the British. However all their plans ended disastrously after they caused the death of Colonel Cricket of the British army. ("The Gang Cracks the Liberty Bell")
Notes