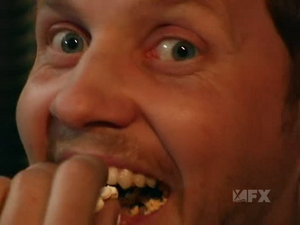 Kevin Gallagher aka Lil' Kevin (portrayed by Kyle Davis) is a rapper who dated Dee Reynolds in season 3. Dennis and Kevin went to the same elementary school together and Dennis tells Dee that Kevin is retarded. Dee dumps him and later discovers he is not in fact retarded when he slams her during a rap song. Kevin reappears in season 6 as one of the potential fathers for Dee's baby.
Personality
Edit
Lil' Kev lives with his mom.
Lil' Kev doesn't drive.
Lil' Kev calls cartoon shorts "movies".
Lil' Kev has powerful "retard strength".
Lil' Kev likes popcorn, drinking juice boxes, and wearing his T-shirt backwards.
These traits gave Dennis and Mac the wrong idea that he was retarded, when in actuality, he's just simply childish.
Appearances
Edit
Ad blocker interference detected!
Wikia is a free-to-use site that makes money from advertising. We have a modified experience for viewers using ad blockers

Wikia is not accessible if you've made further modifications. Remove the custom ad blocker rule(s) and the page will load as expected.