Ad blocker interference detected!
Wikia is a free-to-use site that makes money from advertising. We have a modified experience for viewers using ad blockers

Wikia is not accessible if you've made further modifications. Remove the custom ad blocker rule(s) and the page will load as expected.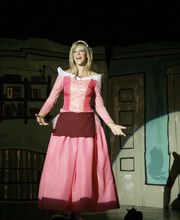 Just to be Clear is a song written by Dee to ensure that people did not think she was a child molestor after hearing her sing Tiny Boy, Little Boy, Baby Boy in Charlie's musical The Nightman Cometh. ("The Nightman Cometh")
This song was written by Cormac Bluestone, Charlie Day, & Glenn Howerton.
Lyrics
Just to be clear
I did not write that song
and have never had sex
with a child
(or minor and anything like that)
Just to be clear
I am a more experienced actor
and that should be taken into account
during your applause at the end
Most men find me to be
an eight or a nine
out of ten
and I am (happend to be) available
to any interested men
who'd like to get my number
after the show
HIV-test preferred
Just to be clear
Just to be clear
Just to be clear