Jack Kelly (also known as Uncle Jack) is Charlie Kelly's uncle, and may have been a pedophile who raped Charlie as a child (the Nightman). He has small hands and likes taking pictures on a disposable camera for his website.
In Season Five he rented a room from his sister Bonnie Kelly but by Season Six he had moved out.
Early Life
Jack watched Charlie's intervention when Bonnie was convinced by Dennis and Dee that Charlie was molested as a child. Jack took great pleasure in watching Charlie point where he was molested on a doll. ("Charlie Got Molested")
Jack is a lawyer who helped Dennis get a divorce from Maureen Ponderosa. ("Dennis Gets Divorced")
Appearances
Quotes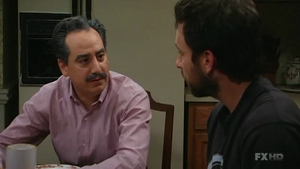 Uncle Jack: It'll be fun, you know, you and me... pallin' around... gettin nuts! Goin' crazy....
Charlie: I'm not doin' any kinda... crazy things you want me to do with you Uncle Jack...
Uncle Jack: It's stuff that relatives do, we'll share the room Charlie...
Charlie: I don't wanna share the room with you dude, cause I will spend the whole night wide awake just like when I was a kid and you tried to share my room.
Uncle Jack: You ever seen wrestlin' on television?
Charlie: I am well aware of what wrestling is, it's just not what uncles do to their nephews! I'm outta here!
Uncle Jack: Hey I'll call you later.
Charlie: I know you will!
[citation needed]