Home
Talk

8
363pages on
this wiki
THE GANG
SEASONS
VIDEO
ABOUT IT'S ALWAYS SUNNY IN PHILADELPHIA
It's Always Sunny in Philadelphia is an American sitcom that began airing on FX on August 4, 2005, created by Rob McElhenney, Glenn Howerton, and Charlie Day. 94 episodes have aired over eight seasons and an 9th season airs on FXX starting September 2013.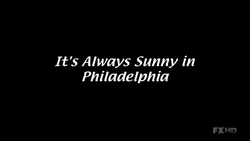 On the most basic level, the show is about a group of friends who run Paddy's Pub in Philadelphia. But it's much more than that - "the gang" takes on social and political issues in their own deprived way, often to awkwardly disastrous results. Their warped antics and narcissistic points of view get them in trouble with rival bars, family members, other Philadelphians, gangs, drug lords, and the authorities.
The gang is composed of the egotistical Mac who never misses an opportunity to stop an injustice; the illiterate Charlie whose undying obsession with a local waitress never steers him right; the eternally vain Dennis who never misses an opportunity to bang; his sister Dee whose pursuit for fame and acceptance has yet to succeed, and their father Frank who, after getting divorced, decides to throw caution to the wind and live without inhibitions.
The It's Always Sunny in Philadelphia Wiki was founded by Sunny fans just like you. We're working on building a comprehensive It's Always Sunny in Philadelphia episode guide, detailed information from episodes of all the hilarious seasons, quotes archives and image galleries of the gang's brainless hijinks, as well as in-depth articles about the great minds who bring Sunny into your lives. We also have plenty of random and hilarious articles about anything from Greenman to Night Crawlers. There's plenty laughs to be found - poke around and have some fun! Don't forget - this is a wiki, so everything is editable.
NEXT ON SUNNY
LATEST EPISODE
"The Gang Squashes Their Beefs" aired Nov 6, 2013
When some bad blood with old foes compromises their ideal Thanksgiving, the gang decides to make amends by breaking bread with those they've hurt.
WATCH SUNNY
You can watch your favorite episodes in a variety of ways: buy or rent DVDs, download episodes from iTunes or Amazon, or stream from Hulu. Anyone can find reruns of Always Sunny - as it is a stroke of comedic brilliance on television.
TALK ABOUT SUNNY
Join our Live Chats every Wednesday night during Season 9 to talk about the show with other die-hard Sunny fans. We shall discuss The Gang and their antics before, during, and after each new episode. Click here to join us.
Join the Chat
SUNNY BLOGS
Create blog post
Refresh

Aaaaaand... We're back! I think the gang is off to a good start so far, to be honest I didn't see the twist at the end coming. I should have, but I didn't. :P I liked that Dennis wasn't in on the Dee…
Read more >

Are you caught up through season 8 of Sunny?

OF COURSE YOU ARE!!

So, now, what do you think Season 9 has in store? I could sit here all day and ramble on & on about all the different possibilities, but…





Read more >
See more >