It's Always Sunny in Philadelphia
Comment

1
333pages on
this wiki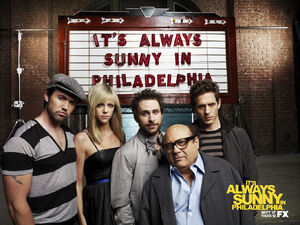 It's Always Sunny in Philadelphia (also known as It's Always Sunny, Always Sunny or just Sunny) is an American television sitcom which premiered on FX on August 4, 2005. The series was created and developed by Rob McElhenney, Glenn Howerton, and Charlie Day, who also star in the show. The series follows the exploits of "The Gang", a group of self-centered friends who run Paddy's Pub, a relatively unsuccessful Irish bar in South Philadelphia.
The show has aired on FX for eight seasons.  It has been renewed for a ninth season, and FX President John Landgraff has stated that there is a "high liklihood" that it will be picked up for a tenth season, and even beyond that.  Even if it is not picked up for a tenth season, it will become the longest running live-action comedy series on basic cable ever by the end of its 9th season.
In the intro of the show names of the actors appear in the order of their birthdays (that's might be also qualified as an alphabetical order of their second names -- except for Danny DeVito, who gets special billing after others):
Charlie Day - February 9, 1976
Glenn Howerton - April 13, 1976
Rob McElhenney - April 14, 1977
Kaitlin Olson - August 18, 1975
Danny DeVito - November 17, 1944

Also: Hidden Messages, Music, Soundtrack, Promos and Original Pilot.
Story
Main Characters
Opening Titles Locations

The Philadelphia landmarks seen in the series' opening credits montage are:
The Benjamin Franklin Bridge
Penn's Landing on Market Street
Lincoln Financial Field
Swann Memorial Fountain in Logan Circle
Boathouse Row
30th Street Station
South Street
Differences
In fact, there are SEVEN different versions of the series' opening title sequence:
Original 4:3 SD version - without footage of 30th Street Station (Season One)
Classic 4:3 SD version (Season Two - Season Four)
Cropped on top and bottom 16:9 SD version (Season Five)
Special Christmas 16:9 SD version ("A Very Sunny Christmas")
Recreated 16:9 HD version (Season Six)
Short HD version - without footage of Boathouse Row and 30th Street Station
(Season Seven and further)
2nd Halloween Special version - with bloody font and without any footages at all
("

The Maureen Ponderosa Wedding Massacre

")
Starting with the 9th season premiere, "The Gang Broke Dee", the phrase "FX Presents" is added above "It's Always Sunny in Philadelphia" on the main title card.

The font used for the titles is called Textile Regular, and can be downloaded here.
Seasons
Production
Awards
Satellite Awards
2008: Best Actor in a Series, Comedy or Musical - Danny DeVito [Nominated]
2008: Best Television Series, Comedy or Musical [Nominated]
---
2011: Best Actor in a Series, Comedy or Musical - Charlie Day [Nominated]
2011: Best Television Series, Comedy or Musical [Won!!]
People's Choice Awards, USA
2012: Favorite Cable TV Comedy [Nominated]