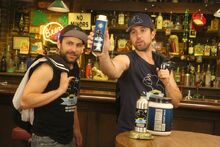 Fight Milk was a drink created by Charlie in an effort to save Atwater Capital. Charlie believed the company needed a new product, and that the growing crow population in the city could be exploited. Hence, he worked with Mac to create "the first alcoholic, dairy-based protein drink for bodyguards by bodyguards." Charlie and Mac presented a promotion of the drink to Atwater Capital's investors, to no avail. ("Frank's Back in Business")
Little is shown of the drink in its earliest incarnation, but it appears to be contained in a jug with a logo of a muscular man with a crow's head, wrapped in one of the bicep fliers from the ill-fated party. ("Dennis and Dee's Mom Is Dead") The drink itself is a mixture of crow egg, milk, and vodka, described by Mac and Charlie as being high in "crowtein."
Some time in between seasons 8 and 12, Frank's Fluids, LLC began producing Fight Milk to be sold. Fight Milk soon began gaining traction as a quick and easy way to expel fluids, being especially
popular with UFC fighters. ("Wolf Cola: A Public Relations Nightmare")
Ad blocker interference detected!
Wikia is a free-to-use site that makes money from advertising. We have a modified experience for viewers using ad blockers

Wikia is not accessible if you've made further modifications. Remove the custom ad blocker rule(s) and the page will load as expected.