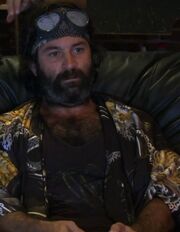 Duncan is Frank's friend who hangs out with him, Z, and Charlie
Under the Bridge.
Duncan is a fan of underground Hawaiian Trip Hop "Charlie Kelly: King of the Rats" Duncan is an amateur DJ "Dee Gives Birth" Duncan is played by David Gueriera.
Probably, Duncan is some sort of leader of this "bridge crew".
Before Season 6, David Gueriera appeared in the show TWICE - as completely different characters (in "The Gang Sells Out" and "The Gang Cracks the Liberty Bell").
Frank was having an idea to go "down by the bridge" for a while. He was first talking about that in "Mac and Charlie Die (Part 1)".
Charlie refers to Duncan and his friends as "those weird bridge people".
Has completed level 3.
Appearances
Edit
Ad blocker interference detected!
Wikia is a free-to-use site that makes money from advertising. We have a modified experience for viewers using ad blockers

Wikia is not accessible if you've made further modifications. Remove the custom ad blocker rule(s) and the page will load as expected.