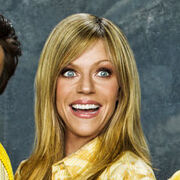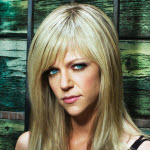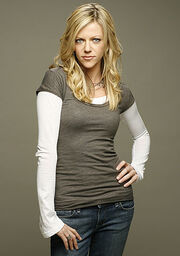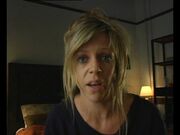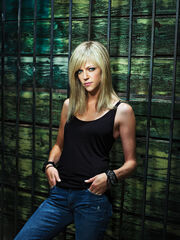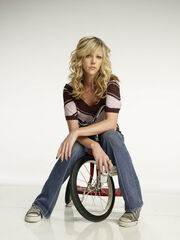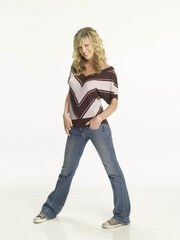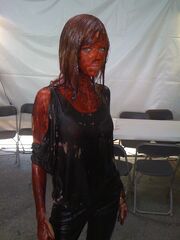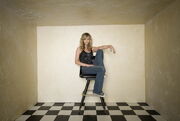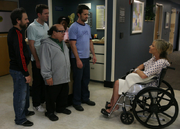 Deandra "Sweet Dee" Reynolds is the bartender at Paddy's Pub. She is the twin sister of Dennis Reynolds, and the legal daughter of Frank and Barbara Reynolds. Dee considers herself a member of The Gang that runs Paddy's, although the rest of the gang often disagrees with this assertion.
Dee lives alone in her apartment with her cat. ("Mac and Dennis Break Up") She rarely has success with men and she is an aspiring actress. Her best (and only) friend is Artemis Dubois. Of the other members of the gang, she is closest to Charlie. [citation needed] In season 6 Dee gave birth to a child using a donor's egg and Carmen the Transexual's sperm and gave the baby to Carmen and her new husband. ("Dee Gives Birth")
Physical Appearance
Edit
Dee has a very tall, lanky, and often clumsy frame. The Gang frequently compares her appearance to that of a bird. Dee also has size 13 feet. ("Who Pooped the Bed?")
Dee has had crows feet coming in, which she does not appreciate. She has also never really liked her earlobes. ("Sweet Dee Has a Heart Attack")
Personality
Edit
Although Dee identifies herself as a compassionate liberal, she is self-centered and often holds the same prejudices as the rest of the Gang.
She is highly sensitive about her appearance and her professional failings.
Sweet Dee battles The Gang's view that "females are inferior" and feels that she must prove that she's as able as her male friends. In "The Gang Gets Invincible," Dee poses as male alter ego "Cole" to try out for the Philadelphia Eagles with Mac and Dennis.
Since high school, Dee has had a long string of failed relationships and one-night stands throughout the series including:
Despite her many insecurities, Dee is aggressively outspoken and prone to violence when angered.
Sweet Dee's acting-career aspirations have inspired her to create and perform as several characters, most of which are based on offensive ethnic stereotypes. Many of these are seen in the episode "America's Next Top Paddy's Billboard Model Contest," in which she attempts to be discovered by talent agencies by posting videos of her acting on a YouTube-like website. However, her presence in the videos is overshadowed by Charlie's idiotic performances as Greenman.
Dee's intense desire for fame and attention also cause her to embarrass herself, to risk suffering physical and/or emotional harm, to lie or create false identities, and to put herself in unpleasant, embarrassing, and/or awkward situations, countless times. Some Examples:
Dee has a problem with addictive substances. Like the other members of the gang, she drinks heavily, especially to calm herself after meeting an attractive man. ("Underage Drinking: A National Concern") She has also been addicted to crack ("Dennis and Dee Go on Welfare"), steroids ("Hundred Dollar Baby") and cocaine ("The Gang Gets Whacked (Part 2)"). Relative to the rest of The Gang, Dee seems to drink more and be drunk more often.
Dee considers herself to be a 8 or 9 out of 10. ("The Nightman Cometh")
The gang often ignores Dee when she speaks, even if she's saying or doing something very important. If someone else says the same thing, they will often listen to that person instead. The gang easily forgets things that have happened to Dee, as well as forgetting and ignoring what she says:
Skills and Abilities
Edit
Dee took several years of Spanish in high school, and can speak some very rudimentary Spanish. ("The Gang Gets Extreme: Home Makeover Edition") She also took a semester of psychology with Dennis which allowed them to determine how to best handle Charlie's molestation. ("Charlie Got Molested")
Dee possesses an extensive knowledge of Gay culture. ("The Gang Recycles Their Trash")
Weaknesses
Edit
Dee is a poor waitress, and can't make simple drinks like a mojito. ("The Great Recession") She is also apparently very rude to customers ("Here you go. Stupid customers."), such as the time she called a customer (who turned out to be Lyle Korman, a restaurant critic) a "faggot" for ordering wine. ("Paddy's Pub: The Worst Bar in Philadelphia") She also has admitted to intentionally using the same check for two different tables and pocketing the difference, a practice she calls "double-dropping." ("The Gang Sells Out")
Dee consistently faces severe stage fright and often chokes under pressure when performing in front of an audience:
She harbors a phobia of the elderly, especially their hands. ("The Gang Finds a Dead Guy")
Early Life
Edit
Dee was unpopular in high school due to her severe scoliosis, which forced her to wear a back brace and earned her the nickname "The Aluminum Monster". ("The Aluminum Monster vs. Fatty Magoo") In high school she dated Brad Fisher who also dated The Waitress. Dee's best friend in High School was Ingrid Nelson, also known as "Fatty Magoo". Matthew Mara ("Rickety Cricket") had a crush on Dee in high school and she tricked him into eating a horse turd with the promise of a kiss; after he ate the turd, she refused to kiss him because "his breath smelled like shit". ("The Gang Exploits A Miracle")
After flunking out of the University of Pennsylvania, where she had intended to major in psychology, Deandra decided to become an actress. ("You gotta take it one step at a time when you want to be an actor")
However, she has put little effort into realizing her ambition and has never had any significant acting work. ("I learned a lot in my theater and psych classes about the human nature.")
She also admitted to sleeping with her psychology professor in college. ("He was a hot older man")