Ad blocker interference detected!
Wikia is a free-to-use site that makes money from advertising. We have a modified experience for viewers using ad blockers

Wikia is not accessible if you've made further modifications. Remove the custom ad blocker rule(s) and the page will load as expected.
David Hornsby portrays Rickety Cricket on It's Always Sunny in Philadelphia and is also a writer and producer for the series.
Bio
David was born in Texas and went to college in Pittsburgh. He has been acting for the screen since 1999 when he appeared in an episode of ER. He has since appeared in dozens of TV shows and films including Six Feet Under, The Joe Schmoe Show, and Jake in Progress. He has also appeared in several films including AVPR: Aliens vs Predator, Requiem, Minority Report, and Pearl Harbor.
Hornsby is also a writer, and has written 18 episodes of Sunny. He adapted the book How to Be a Gentleman into a sitcom for CBS. It premiered September 2011, and Hornsby will star.
David Hornsby is married to Bones actress Emily Deschanel. Their son, Henry Lamar Hornsby, was born September 21, 2011.
Episodes Written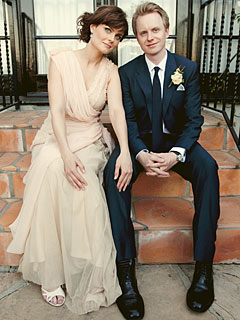 Selected Filmography
Pearl Harbor (2001) -- Flyer with Murmur
Minority Report (2002) -- Pre-Crime Public Service Announcer
Six Feet Under (7 episodes, 2003) -- Patrick
The Joe Schmoe Show (2003 TV Series) -- Steve 'The Hutch' Hutchinson / 'The Asshole'
Jake in Progress (16 episode 2005-2006) -- Ken
AVPR: Aliens vs Predator - Requiem (2007) -- Drew
How to Be a Gentleman (2011 TV Series) -- Andrew Carlson -- Creator and Writer
Unsupervised (2012 TV Series) -- Joel Zymanski / Brian Zymanski (VO) -- Creator and Writer
External Links