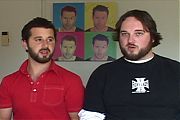 Chris Romano and Eric Falconer are a writing team who co-wrote the Season 2 episode "The Gang Exploits A Miracle" together with Charlie Day.
Chris and Eric have worked together for many years. The both wrote many series for Chanel 101 and later for the similar Acceptable TV. They also worked as producers and writers of Comedy Central's The Sarah Silverman Project as well as Spike TV's Blue Mountain State, in which Romano also starred.
External Links
Edit
Ad blocker interference detected!
Wikia is a free-to-use site that makes money from advertising. We have a modified experience for viewers using ad blockers

Wikia is not accessible if you've made further modifications. Remove the custom ad blocker rule(s) and the page will load as expected.