Ad blocker interference detected!
Wikia is a free-to-use site that makes money from advertising. We have a modified experience for viewers using ad blockers

Wikia is not accessible if you've made further modifications. Remove the custom ad blocker rule(s) and the page will load as expected.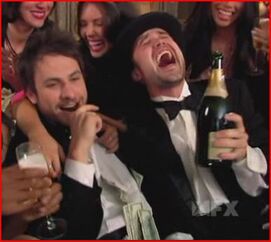 Charlie Kelly and Mac have been best friends since childhood.
Early History
They would throw rocks at trains on Christmas morning during their childhood. Both were 'losers' during high school and exchanged ring worm back and forth until finally giving it to the boys wrestling team. During high school, the two spent a lot of time huffing glue in Charlie's mom's basement.
Season One
Please insert plot summary here.
Season Two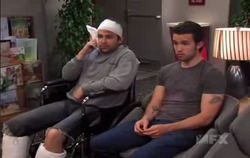 When Charlie discovers all of Frank's money is in his bank account, the two go on a spending spree.
Season Three
Please insert plot summary here.
Season Four
In season four Mac and Charlie both fake their own deaths.
Season Five
Please insert plot summary here.
Season Six
Season Seven
Season Eight
Alliances
Season One

Charlie and Mac teamed up to meet black friends at a nearby college campus. (The Gang Gets Racist)
Teamed up after Charlie finds Nazi outfits owned by Dennis and Dee' grandfather. Try to sell stuff to a museum, but fail. They then burn the clothes in the alley; when Dennis shows up and rubs in that he slept with Rebecca, Mac shows him the picture of his grandfather the Nazi. (The Gang Finds A Dead Guy)

Season Two
Notes
Charlie and Mac's name have been used together in the titles for five different episodes.
Charlie believes Mac is in love with him.
Charlie considered Mac to be his only best friend ever since Dennis banged the waitress.
Notes
Please insert notes here.