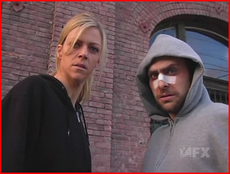 Charlie and Dee are both members of the Gang.
Their friendship is based mostly on who they know in common. Charlie was childhood best friends with Mac, and now is good friends with Dee's fraternal twin Dennis.
The two shared a short-lived sexual relationship, which has apparently been kept secret from the rest of the gang.
Early History
Edit
Please insert plot summary here.
Season One
Edit
In the episode "Charlie Has Cancer" out of all the gang, Dee seems to be the only one concerned.
Season Two
Edit
Please insert plot summary here. Omg
Season Three
Edit
Season Four
Edit
In Mac and Dennis: Manhunters, Charlie and Dee steal some of Franks meat and have a date like setting with flowers and only one plate, and later learn it might have been human meat causing them to develop an insatiable cannibalistic hunger.
In America's Next Top Paddy's Billboard Model Contest, Charlie and Dee team up to make viral videos of her "improv" characters. Charlie spices them up by throwing a volleyball at her face in the middle of the shoot and dressing up as Greenman during her shoots. While filming, they are interrupted by a man who recognizes her as PatheticGirl43, a YouTube channel Charlie started with Dee's private video journals. When Dee finds out she has amassed 80,000 hits she tries to milk the channel but once again tries too hard to be funny and appears aloof.
Season Five
Edit
In Mac and Dennis Break Up, Charlie tries to help Dee get a cat out of her apartment wall by letting more cats into the wall.
Season Six
Edit
In The Gang Gets a New Member and Dee Reynolds: Shaping America's Youth, Dee and Charlie get jobs at a high school, Charlie as janitor and Dee as substitute theater teacher. They are fired when Dee brings her class to the bar to watch Lethal Weapon 5 and a student shows up to school in blackface.
In Charlie Kelly: King of the Rats, Dee takes Charlie to the movies in order to keep him out of the bar while planning his birthday party and appear more altruistic. Charlie spills his spaghetti in Dee's purse and frustrates Dee so much that he leaves the theater and she goes to the spa alone.
Season Seven
Edit
In Thunder Gun Express, Charlie leads Dee through the sewers to get to the cinema in time. Charlie ditches Dee when her shoe gets stuck in the grate and the "wall of water" (raw sewage) washes over her.
Season Eight
Edit
In Charlie and Dee Find Love, Dee is driving Charlie around to help him stalk the Waitress when they get into a car accident. The other car's passengers turn out to be a rich brother and sister who decide to go on a double date with them. Charlie and Dee go on the date pretending to be much higher class than they are but Charlie cracks at the sight of cheese. The brother and sister are relieved to find out that they are lower class.
In Charlie Rules the World, Charlie and Dee team up to play an online avatar game called "TechPocalypse". Their in game characters briefly rule together.
Season Nine
Edit
In Mac and Dennis Buy a Timeshare, Dee enlists Charlie to help her with her pyramid scheme, and they both try to scam Ben the Soldier with The Maniac following close behind.
Season Ten
Edit
In The Gang Misses the Boat, Mac, Dennis, and Frank storm out of the bar, leaving Charlie and Dee go to a diner and support each other in doing what they want without fear of the rest of the gang making fun of them. Later at Dee's apartment, they get into def poetry together (much to the frustration of Dennis). When Charlie suggests they perform, there's much sexual tension and two of them make out and possibly bang. The next day at the bar, they are being very awkward and agree with Frank that the gang should go back to normal.
In Frank Retires, Charlie and Dee take a blood oath, and agree to remain in cahoots with each other.
Alliances
Edit
They're the only two members of the Gang who have banged each other. They never properly address what happened and keep it as a secret between the two. Offhandedly, when it's relevant and they are alone, Charlie has brought up having sex again. With Dee belittling, turning down, or straight forwardly ignoring the suggestions.
Ad blocker interference detected!
Wikia is a free-to-use site that makes money from advertising. We have a modified experience for viewers using ad blockers

Wikia is not accessible if you've made further modifications. Remove the custom ad blocker rule(s) and the page will load as expected.