Charlie Kelly: King of the Rats
Comments

0
351pages on
this wiki
"Charlie Kelly: King of the Rats" is the tenth episode of the sixth season of It's Always Sunny in Philadelphia.
Keeping the basement rodent-free drives Charlie to the brink; The Gang throws Charlie a surprise party.
10:00 AM, On a Tuesday, Philadelphia, PA
In the bar, The Gang are talking when Charlie comes in, zoned out from bashing rats in the basement.
Alliances
Edit
Recurring Roles
Edit
Guest Stars
Edit
David Aranovich as Travis the Ticket Usher
David Ury as Spa Worker
Xuyen Valdivia as Stunt Male
Lauren Mary Kim as Stunt Female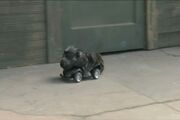 A "little puppy", which Charlie was making outside of the bar, named Scarcoon ("Scary coon"): he is not able to kill the rats anymore, so he needs this raccoon just to scare them away.
"A guy with a wormhat - like, his hat is made out of worms. And, like,
a little bird with human teeth" - they all are products of Charlie Day's improvisation, which you can see in an extended scene of Mac and Charlie's brainstorming from "Mac and Charlie Write a Movie".
Danny DeVito's real birthday is November 17; this episode's premiere date was November 18.
 —

"

Hey, where'd you get those glasses, bud?

"
"

Oh, these? They're just, like, third-dimension glasses, you know? Don't really work though, 'cause I feel like I'm still seeing stuff in whatever dimension we live in...

"

— 
---
 —

"

Do any of you assholes wanna know how old I am?

"
"

Whatever, Frank.

"

—